Growing Up Sustainable
In addition to providing wholesome nutrition and supporting the health of our population, California's community of more than 6,500 almond growers are committed to using sustainable agricultural practices that respect the environment and local community1,2. Over 90 percent of California almond farms are family farms, owned in large part by third and fourth generation family farmers who plan to pass down their land and way of life to their children and grandchildren.2 And nearly three-quarters of almond farms are less than 100 acres2 . These growers recognize the need to carefully manage resources for current and future generations, offer continued work for their employees, and ensure clean air and water for their families and neighbors.
Sustainable practices for almond growers differ from orchard to orchard depending on particular conditions, such as soil and climate variances in California's Central Valley. Achieving sustainability takes individualized care and consideration of resources, such as reviewing weather, soil moisture and tree needs to determine the most effective irrigation strategies and nutrient needs.
In order to continue to help growers navigate these complex challenges, the Almond Board of California invests more than $2 million a year to research production and environmental issues to continually evolve best practices. Highlighted below are some of our ongoing sustainability efforts.
A Team on a Mission
When it comes to following sustainable agricultural practices, California almond growers and handlers together have been progressive and are continuously challenging themselves to do more. The California Almond Sustainability Program (CASP) was established in 2009 to better understand the ongoing sustainability practices of growers related to the following aspects in their operations:
Water (efficiency and quality)
Air quality
Energy
Land (nutrient management, pest management and bee health)
In addition to collecting data related to the areas above, we have analyzed the practices used to grow almonds for their relative impact on the environment in combination with grower economics. This value analysis has helped the almond community identify which of the many practices have the greatest environmental and economic impact while helping inform future research areas and projects.

Water Matters
Efficient water use and irrigation management are central to the success of California's Central Valley almond growers, ensuring that consumer demand for almonds can be met sustainably.

For more than 30 years, the Almond Board, has been researching and implementing techniques to make the most of our precious water resources. In fact, state-of-the-art farming and production developments over the past two decades have helped almond growers reduce the amount of water they use per pound of almonds grown by 33 percent.3

How have they done it? Taking a look at the day-to-day water efficiency practices of almond growers through CASP, we have identified that:
More than 70 percent of almond orchards represented in a 2014 survey report using micro-irrigation systems, which conserve water by decreasing water runoff, applying water directly to the root zone to avoid waste, and for precise timing and rate of irrigation.

83 percent of surveyed growers report using demand-based rather than scheduled irrigation, which means they monitor weather, soil moisture and trees to determine when and how much to irrigate.4

62 percent of almond growers use soil maps to understand the soil characteristics in their orchards in order to determine the design of the irrigation systems to enhance water infiltration and distribution. 4

Almond growers also ensure optimal maintenance of irrigation system infrastructure.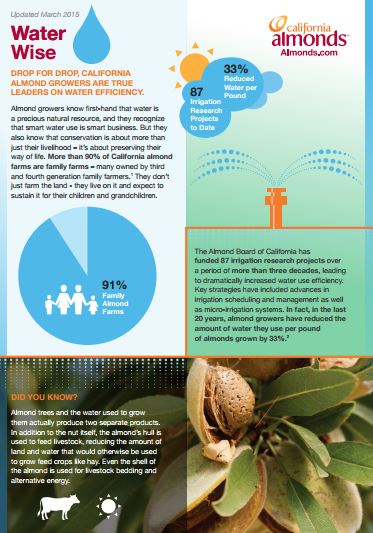 Thanks, in part, to those innovations, even though the acreage of perennial crops in California, including almonds, increased during the 2000s, the total amount of water that went to farms held steady– so a shift in crops grown hasn't meant more total water going to agriculture.5 Looking at the longer term trends, California farmers have steadily done more with less. Between 1967 and 2010 farm revenue in the state grew by more than 85 percent while the total applied water-use to crops was reduced by more than 5 percent.5

In addition to using water efficiently,
protecting the quality of groundwater
is critical to California growers, our families, and our neighbors. Almond growers are continually improving nitrogen management. In fact, according to
research
conducted by the
University of California – Davis
, almonds are among the most efficient nitrogen-using crops. Using current growing practices, nitrogen use efficiency (NUE) in almonds is 75-85 percent, compared to overall agriculture NUE of less than 50 percent.
6
To learn more about almonds and water, click here.

Carbon Footprint

The first phase of the California Almond Life Cycle Assessment explores the climate impact and energy use of California almond production (from nursery to hulled and shelled almonds) over a typical 25-year lifespan of an almond orchard. Among its key findings, the research concludes that energy production from almond prunings and cleared trees is key to optimal almond production. In fact, when these waste products are fully utilized, almond production can potentially be carbon neutral or even carbon negative.7 Research continues to determine whether a statistically significant number of California's almond growers are currently re-using their waste products in these ways.

The Almond Board is currently working on approving the second phase of the Life Cycle Assessment with UC Davis researchers, who will explore the energy use and greenhouse gas emissions beyond-the-farm production – including activities such as blanching, roasting, packaging and transporting almonds.

Minimal Waste
There is minimal waste resulting from California's almond byproducts. In fact, almond trees, and the water used to grow them, actually produce two separate products. In addition to the almond nut itself, there's the almond hull, which is used to feed livestock, reducing the amount of land and water that would otherwise be used to grow feed crops like hay and alfalfa. Finally, there's the shell of the almond, which is used as livestock bedding and for alternative energy in co-generation plants.
For questions or more information about our sustainability efforts, contact the
Almond Board
.
---
1 California Almond Sustainability Program definition: Sustainable almond farming utilizes production practices that are economically viable and are based upon scientific research, common sense and a respect for the environment, neighbors and employees. The result is a plentiful, nutritious, safe food product.
2 2012 USDA Agricultural Census. http://www.agcensus.usda.gov/Publications/2012/
3 UC Drought Management – Historical Almond ET, see and Goldhamer, David. 2012. Almond in Group Yield Response to Water. FAO irrigation and Drainage Paper No. 65, P. Steduto, T.C. Hsiao, E. Fereres, and D. Raes, eds. Food and Agriculture Organization of the United Nations, Rome, Italy, pp. 246-296.
4 Almond Board of California. 2014 Almond Sustainability Program Report.
5 California Department of Water Resources – Water Plan Update, 2013
6 University of California – Davis, Management of Nitrogen in Almonds and Pistachios, 2013. 21 pp. http://www.cdfa.ca.gov/is/ffldrs/frep/pdfs/Brown_2013.pdf
7 University of California – Davis. Greenhouse Gas and Energy Footprint (Life Cycle Assessment) of California Almond Production Report. 24pp.