A Mutually Beneficial Relationship
Almonds depend on bees and bees depend on almonds. In fact, the link between bees and almonds is so important that the relationships between almond farmers and their beekeepers often go back years or even generations.
Between February and March each year, almond tree buds burst into beautiful light pink and white blooms in preparation for pollination. As the trees blossom, honey bees forage for pollen and nectar in the orchard. When the bees move from tree to tree, they pollinate almond blossoms along the way. Each fertilized flower will grow into an almond. After almonds, beekeepers bring their honey bees to different locations across the United States, pollinating more than 90 other crops and making honey.
While bees are essential to pollinate the almond crop, the bees benefit too. Almond orchards help strengthen bee hives because:1
Almond orchards provide honey bees with their first natural source of food each spring.

Just like almonds are a nutritious snack for us, almond pollen is very nutritious for honey bees, providing all ten of the amind acids their diets require.

Honey bee hives routinely leave stronger after visiting during almond bloom.

Beekeepers can then split many of the hives to grow their apiaries.
Committed to Health
A variety of factors have led to a widely documented and concerning decline in honey bee health, including activities associated with both beekeeping and crop production, putting at risk many of the foods we count on for a stable, nutritious food supply. While the total number of honey bee hives in the U.S. has remained stable for the past 20 years,2 maintaining healthy, stable hives is beekeepers' big challenge. That's why the Almond Board of California has taken extraordinary steps to be good partners to beekeepers in promoting bee health, including the almond community's recently launched five-point Pollinator Protection Plan. We have funded more honey bee health research than any other crop group3, supporting 125 research projects since 1995.
Research funded by the California almond community, along with that of universities, government agencies, and non-profits informed the Honey Bee Best Management Practices (BMPs) for California Almonds. Guidelines for everyone involved in the pollination process, the Honey Bee BMPs provide recommendations ranging from making the orchard a safe and welcoming place for honey bees to how to treat for pests and disease without harming bees.
Partnerships in the Orchard
Working with Project Apis m., Pollinator Parternship and others, the Almond Board encourages almond farmers to plant pollinator habitat in or adjacent to their orchards as additional food sources for honey bees before and after almond bloom. Not only do these blooming plants support honey bees, they provide food sources for native bees too. Beyond providing additional nutrition for pollinators, these plantings can help farmers improve their soil health, water infiltration and more.
Since 2013, almond farmers have planted 34,000 acres of bee pasture through Project Apis m.'s Seeds for Bees program. That's equal to 25,000 football fields, all filled with blooming plants for honey bees and native bees to enjoy.4
Learn More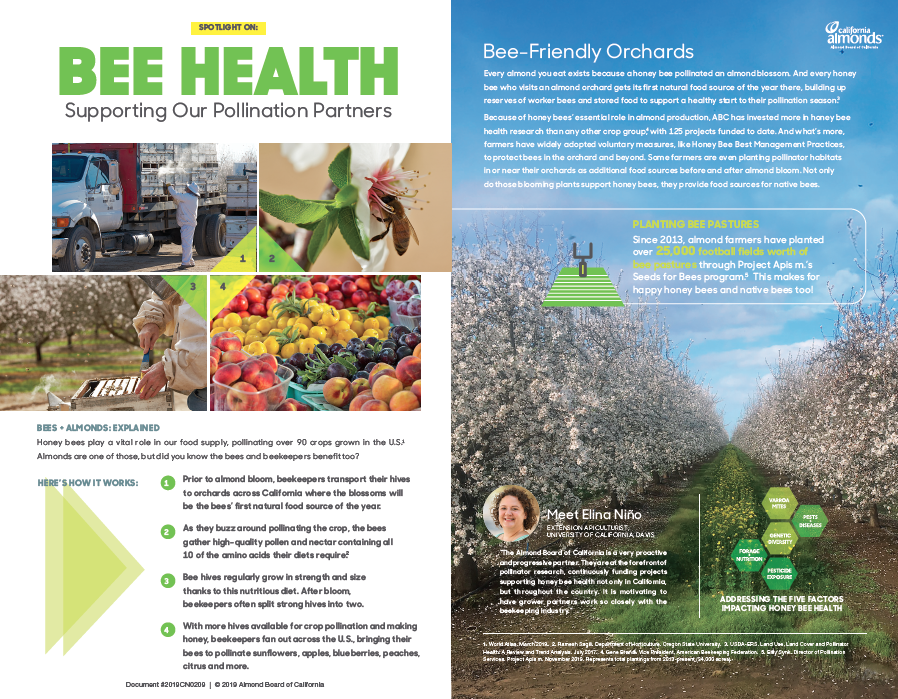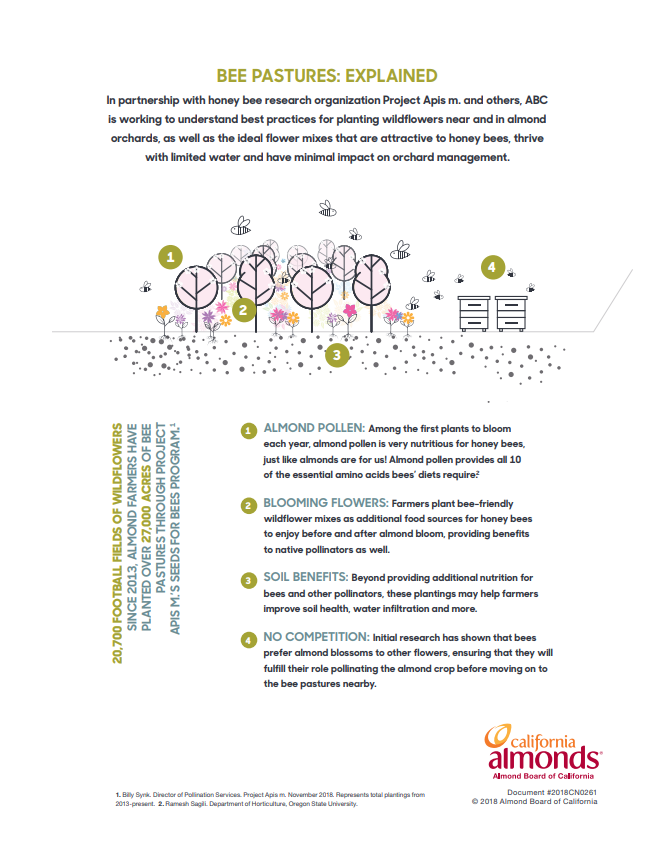 ---
1. Ramesh Sagili, Oregon State University, Department of Horticulture.
2. USDA-NASS. Honey Bee Production Report. 1987–2018.
3. Gene Brandi. Vice President, American Beekeeping Federation.
4. Billy Synk. Director of Pollination Services. Project Apis m. Nov. 2019. Represents total plantings from 2013-present.