Nutrient Rich
Gram for gram, almonds are one of the most nutrient-rich tree nuts.
Nutrient Rich

No-Nonsense Nutrition
When it comes to nutrients, California Almonds offer natural goodness in every bite.
Gram for gram, they're the tree nut highest in protein, fibre, vitamin E, calcium, riboflavin, and niacin, making them one of the most nutrient-rich tree nuts1.
A natural source of protein, almonds are high in monounsaturated fat-- the type of fat emphasised in the Mediterranean diet—and 9 essential nutrients*. Talk about a petite package packing a punch!
Check out these nutrition facts for almonds to see how they stack up to other tree nuts: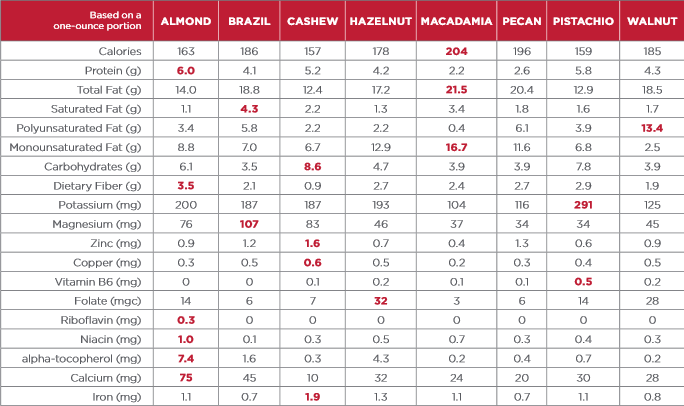 Source: U.S. Department of Agriculture, Agricultural Research Service. 2010. USDA National Nutrient Database for Standard Reference, Release 23. Nutrient Data Laboratory Home Page, http://www.ars.usda.gov/ba/bhnrc/ndl The red number indicates the highest value.
1Compared to Brazil nuts, cashews, hazelnuts, macadamia nuts, pecans, pistachios, and walnuts
*Almonds provide at least 30% of the RDA (Recommended Daily Allowance) for the following nutrients: vitamin E, riboflavin, calcium, copper, magnesium, manganese, phosphorus, potassium, zinc
Weight Wise
Almonds are a simple, nutritious snack to have ready to combat cravings for sugar-laden alternatives. They are a good fit for many popular diet plans. Almonds fit nicely into weight management plans because they are nutrient-rich, providing great nutrition content relative to calories.
A handful of almonds is considered a good fit with many popular weight-loss plans. They offer key benefits to anyone trying to shed a few pounds. They contain 15 essential nutrients*, so when you reach for almonds between meals, you are getting the nutrients you need.
In fact, almonds are high in fibre and monounsaturated fat in addition to 9 essential nutrients* including vitamin E and calcium. Almonds are also a natural source of protein, delivering 6.4g of protein per 30g serving.
It's easy to add almonds to your diet. Just snack on a handful in the car or add them to meals throughout the day.
*Almonds contain at least 15% of the RDA (Recommended Daily Allowance) for protein, vitamin E, thiamine, riboflavin, niacin, folic acid, calcium, copper, iron, magnesium, manganese, phosphorus, potassium, zinc and linoleic acid.
Research
A new study2 published in the European Journal of Clinical Nutrition followed participants who consumed a 43-gram serving of dry-roasted, lightly salted almonds every day for 4 weeks, either as a snack or as part of a meal. At the end of the 4-week study, caloric intakes and body weights in participants who consumed almonds did not differ from those in participants who did not consume almonds, suggesting that subjects naturally compensated by eating less of other foods.
The researchers also found that, during an 8-hour feeding study, there were significantly greater reductions in the daylong ratings of hunger and desire to eat in subjects who consumed almonds either as a snack or as part of a meal compared to those who did not eat almonds.
Participants consuming almonds also experienced improvements in dietary intakes of monounsaturated ("good") fat and vitamin E. This is a notable finding, particularly since vitamin E intakes were below the recommended level in several of the groups at the start of the study. These findings suggest that almonds make a great nutritional addition to any diet.
2 Tan, S-Y. and Mattes, RD. 2013. Appetitive, dietary and health effects of almonds consumed with meals or as snacks. Eur J Clin Nutr DOI#10:1038/ejcn.2014.184.
Immunity
Immunity is definitely nothing to sneeze at and the almighty almond is up for the challenge. Almonds are high in copper and zinc and a source of folate and iron, all nutrients that support proper immune function.
All About Antioxidants
Do you know which type of vitamin E the human body uses most? It's called alpha-tocopherol (AT) vitamin E and, lucky for you, almonds are one of the leading food sources of this important antioxidant. Alpha-tocopherol is the only form of vitamin E recognized to meet human requirements.
Antioxidants found in almonds and other foods can help neutralise nasty free radicals, which can damage your cells, tissues and even your DNA.
A 30g handful of almonds provides 65% of the Recommended Daily Allowance (RDA) for vitamin E, which contributes to the protection of cells from oxidative stress.
Calcium
Cue the Calcium. Almonds' nutrition is no one-trick pony. In fact, every crunch carries lots of important vitamins and minerals, including one that most people don't even think of in nuts: calcium. Usually associated with dairy and dark leafy greens, calcium is necessary for the maintenance of healthy bones and teeth…
When compared gram for gram, almonds are the nut highest in calcium*, boasting 81mg per 30g.
Calcium is most commonly credited for its talents in bone health, but it's also key in well-functioning muscles and nerves.
Calcium is important at every age, so it's a good thing there's an almond option to suit every taste. From almond butter and flavoured almonds to almond flour for baking, almonds don't leave anyone out of the calcium-getting game.
*Compared with Brazil nuts, cashews, hazelnuts, macadamia nuts, peanuts, pecans, pistachios, and walnuts.